BRC - A global standard
* BRC is a leading trade association for UK retailing and BRC food safety standard now becomes the world standard for food safety and is applied in over 90 countries in the world.
TAKIGAWA has researched and developed a comprehensive system with processes based on global standards using in develop market such as North America, Europe and Australia.
We have faith in the quality of the production team and the management committee and always keep improving the product to become better, more convenient, and more safety.
In recent years, the number of customers is getting more as the products producing to use in food & cosmetic industry is increasing as well. Hence, controlling the quality and ensuring food safety of the products are always the top criteria.
Achieving the BRC Certification is not only the proof for the quality of our products but also the promise of the production team and the management committee for food safety.
BRC Certification 2019 (The British Retail Consortium) * - Rank AA
BRC Certification 2018 (The British Retail Consortium) * - Rank AA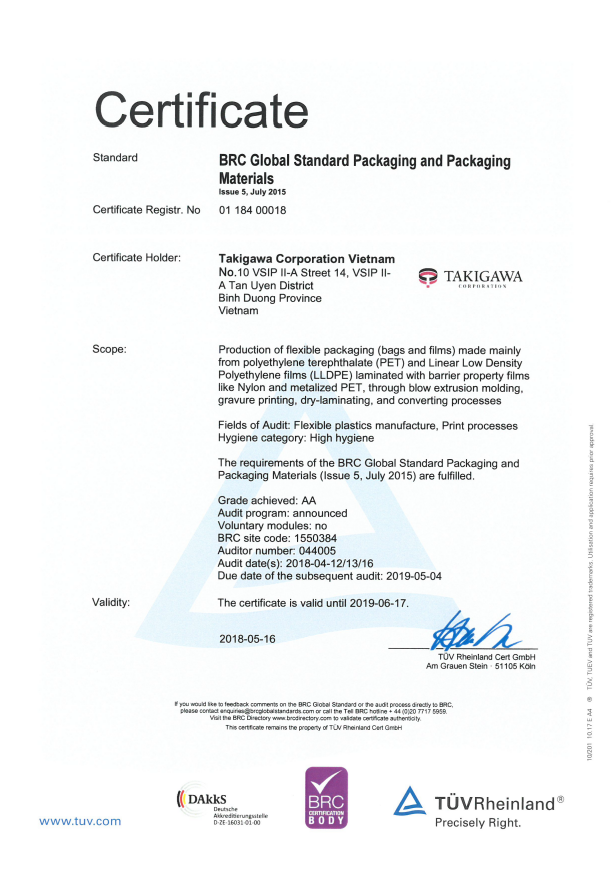 BRC Certification 2017 (The British Retail Consortium) * - Rank A
BRC Certification 2016 (The British Retail Consortium) * - Rank A